Thursday, June 5th, 2014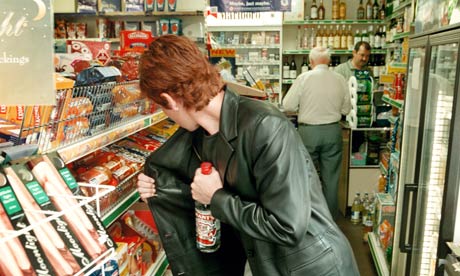 As a criminal attorney of Haddonfield, I get asked this question a lot. Some of the most expensive things people target are cars, digital devices like cell phones and cash. But, no personal possession is safe! In fact, according to the National Retail Federation (NRF), one of the most commonly stolen items is Nutella. This is because it is relatively expensive and high in demand, two of the largest factors in why items are stolen.
But there are many weirder things that people shoplift. According to NRF, here are the 10 weirdest things shoplifted:
Laundry Detergent
Tide, which is an easily recognizable brand of laundry detergent is traded for drugs and other illicit items. This item is difficult to track because of the lack of serial numbers on the packaging.
Allergy Medicine
According to a 2013 crime survey conducted by the NRF, allergy medicine has become a popular item to steal. Allergy medication is typically stolen for recreational use, or re-sold on the streets.
Pregnancy Tests
Young shoplifters choose to steal pregnancy tests to avoid embarrassment of purchasing them in public. But more importantly, they are targeted by groups of thieves for their resale value. They can be sold on the black market for near-retail prices.
Catalytic Converts
These are stolen for their value at scrap yards. The price of such metals as platinum, rhodium and palladium found in a catalytic converter has risen in recent years, which can explain why they are one of the most shoplifted items.
Manhole Covers
At first, you may not consider this item to be a hot commodity, but with the increase in metal prices, manhole covers are stolen frequently. Thieves will go as far as dressing as construction workers when stealing the covers.
Nutella
Certainly the tastiest item on the list, Nutella is reported as being stolen in areas throughout the world.
Sap
It is a labor-intensive process to produce maple syrup. 40 gallons of sap is required to produce a single gallon of syrup, which is why thieves go to great lengths to steal million dollars' worth of sap.
Shrubbery
Make sure you keep an eye on those porch plants you have in front of your house. In the past year, there have been a number of shrubbery theft cases, with thieves leaving damage to lawns. Plant value can reach extreme highs when traded on the black market.
Small Boats
IT is common for thieves to break into the backyards of homes located on the Ocean in order to steal their boats. Along with small boats, jet skis are also a commonly stolen item.
Steak
Due to the increase in demand for beef overseas, the value for steak has risen greatly. In 2013, it was reported that more than 10,000 cows and horses were stolen. It is clear that steak is no exception for shoplifters.
To learn more about shoplifting, contact the Law Office of Charles Block today.
Monday, May 14th, 2012
Certain criminal convictions are eligible for an expungement in New Jersey. In addition to determining the crimes which are eligible, it is equally important to determine the length of the waiting period from the date of your conviction to the date upon which you are eligible to file a petition for expungement You should have your criminal record expunged because background checks are now the norm. Many employers and educational institutions place a stigma on any person who has been arrested or convicted of a crime. It can also affect your employment opportunities, professional licensing boards and college applications. An expungement of your New Jersey record will prevent an employer from accessing your criminal record and allow you to lawfully answer "no" on an employment application.
Crimes which are Eligible for Expungement
In order to have your record cleared, you must first look at whether or not you are eligible to have the criminal conviction expunged.
Convictions for the following crimes are not eligible for expungement in New Jersey:
.Criminal Homicide (exception Vehicular Homicide)
.Kidnapping
.Luring or Enticing
.Aggravated Sexual Assault
.Criminal Sexual Contact if the victim is a minor
.Criminal Restraint
.Robbery
.Endangering the Welfare of a Child (if based on sexual contact or child pornography)
.False imprisonment
.Perjury
.False Swearing
.Distribution of Controlled Dangerous Substance or Possession of Controlled Dangerous Substances with Intent to Distribute
.Motor vehicle violations, DWI or DUI.
Waiting Period for Expungements
The following information is general eligibility requirements for an expungement and the waiting periods for filing a petition for expungement in New Jersey.
TYPE OF CONVICTION AND  TIME ELAPSED SINCE CONVICTION
Indictable two or more convictions – 10 years waiting period from completion of sentence
Disorderly Persons (up to 3 disorderly) – 5 years waiting period from completion of sentence
Petty Disorderly Persons – 5 years waiting period from completion of sentence
Municipal Ordinances – 2 years waiting period from completion of sentence
Juvenile Delinquency – 5 years waiting period from completion of supervision
Possession of CDS <21 years of age – 1 year period from completion of sentence
Arrests not resulting in Convictions – Immediately
Conditional Discharges/Pretrial Invention – 6 months
Length of Time Before Expungement is Complete
The expungement motion should be scheduled for 30 to 60 days from the filing of the expungement petition. Keep in mind that each county is slightly different as far as the time it takes to get your case listed on the expungement calendar.
Information Needed to Get Started
In order for an attorney to file your New Jersey expungement petition, specific information about the offense must be obtained. Such as summons or complaint number, arresting agency, criminal charge and corresponding statutory number, arrest date, and disposition. Without this information, the expungement cannot be appropriately filed or granted.
Tuesday, September 13th, 2011
Juvenile crimes can be either felonies or misdemeanors, depending on the brutality of the offense.  In a lot of cases, particularly those concerning violence, sexual felonies, crimes on a campus, or other factors such as:  gang developments or exploit of weapons, the juvenile offender will be charged as an adult and subject to adult penalties.
Kids and Drugs Just Don't Mix
This thought applies to a juvenile whether or not he or she finds his or herself in a child welfare action in juvenile court.  There is an assumption that if you are a parent who uses drugs and has minor children—you are in fact, neglecting them and instigating possible drug use in the child's future.  The best thing a parent should do is immediately inquire about substance abuse treatment.  It is hypothetically possible that a parent can use drugs and not disregard their child, but the burden of proof to refute that assumption is very high.  The argument that illicit drug use does not impair a parent's parenting ability is nearly impossible to win.  It may not be impossible, but there are circumstances where a court would not find it to be so.  Avoid your child's possible stay in a Juvenile correctional facility due to drugs by seeking treatment today.
Friday, October 15th, 2010
Expungement is a legal process under which the criminal gets a clean criminal history as his or her arrest and conviction is completely erased from the criminal record. It is important to note here that not all cases and not all conditions make a person or persons eligible for seeking expungement. The eligible person has to meet certain standards set under the federal law in order to become eligible for expungement. The very process of laborious one and it involves a number of series of steps, and each step has many complications that need to be carefully looked into.
Following are some of the examples of convictions that do not fall under the ambit of expungement:
1. Rape
2. Sexual battery
3. Corruption of a minor
4. Sexual imposition
5. Obscenity or pornography where a minor is involved
6. Felonies done by the accused where the victim is under 18 years of age
There is certainly a distinction when you compare expungement with pardon or the executive clemency. Although both these terms appear similar, yet there is huge difference in both of them. Under the expungement conditions, a person whose criminal record is erased treats the events as they had never happened in the past or present. However, this is not the case with the executive clemency. Pardon doesn't erase the records. Pardon is forgiveness is granted by the governor for the state law offenses, and the President for the federal offenses. Expungement deals with an individual who has underlying criminal record. It is a civil action where the plaintiff or the petitioner will ask the court to clearly declare in the writing on the records to be expunged.
Expungement case is handled by criminal lawyer or attorney, and therefore it is very necessary that you hire one for your Expungement. There are many experienced lawyers and attorneys who are trained and qualified to handle expungement cases. Criminal Attorney New Jersey can be your first choice, though you can also look for qualified criminal lawyer in Haddonfield, PA and many other counties and states. It all depends on your comfort levels and the jurisdiction under which your state or county is covered.
But make sure that you go for experienced criminal lawyer so that your application for expungement is justified before the judge in the court of law. Expungement is meant to give you a cleaner image so that you can lead a normal life and recreate your lost images in the public. Therefore, you cannot take chances with expungement or else, it is you who would eventually be at fault again. What are you thinking about? Get ready and apply for Expungement before it is too late. You deserve to be expunged.