Thursday, June 5th, 2014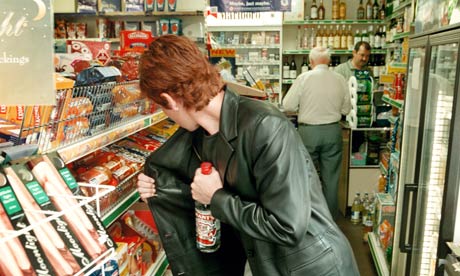 As a criminal attorney of Haddonfield, I get asked this question a lot. Some of the most expensive things people target are cars, digital devices like cell phones and cash. But, no personal possession is safe! In fact, according to the National Retail Federation (NRF), one of the most commonly stolen items is Nutella. This is because it is relatively expensive and high in demand, two of the largest factors in why items are stolen.
But there are many weirder things that people shoplift. According to NRF, here are the 10 weirdest things shoplifted:
Laundry Detergent
Tide, which is an easily recognizable brand of laundry detergent is traded for drugs and other illicit items. This item is difficult to track because of the lack of serial numbers on the packaging.
Allergy Medicine
According to a 2013 crime survey conducted by the NRF, allergy medicine has become a popular item to steal. Allergy medication is typically stolen for recreational use, or re-sold on the streets.
Pregnancy Tests
Young shoplifters choose to steal pregnancy tests to avoid embarrassment of purchasing them in public. But more importantly, they are targeted by groups of thieves for their resale value. They can be sold on the black market for near-retail prices.
Catalytic Converts
These are stolen for their value at scrap yards. The price of such metals as platinum, rhodium and palladium found in a catalytic converter has risen in recent years, which can explain why they are one of the most shoplifted items.
Manhole Covers
At first, you may not consider this item to be a hot commodity, but with the increase in metal prices, manhole covers are stolen frequently. Thieves will go as far as dressing as construction workers when stealing the covers.
Nutella
Certainly the tastiest item on the list, Nutella is reported as being stolen in areas throughout the world.
Sap
It is a labor-intensive process to produce maple syrup. 40 gallons of sap is required to produce a single gallon of syrup, which is why thieves go to great lengths to steal million dollars' worth of sap.
Shrubbery
Make sure you keep an eye on those porch plants you have in front of your house. In the past year, there have been a number of shrubbery theft cases, with thieves leaving damage to lawns. Plant value can reach extreme highs when traded on the black market.
Small Boats
IT is common for thieves to break into the backyards of homes located on the Ocean in order to steal their boats. Along with small boats, jet skis are also a commonly stolen item.
Steak
Due to the increase in demand for beef overseas, the value for steak has risen greatly. In 2013, it was reported that more than 10,000 cows and horses were stolen. It is clear that steak is no exception for shoplifters.
To learn more about shoplifting, contact the Law Office of Charles Block today.