December 23rd, 2014
So, you've come to the conclusion that you want to sell your home via a short sale. What comes next? If you've decided that a short sale is right for you, the most important aspect of the process is to close the transaction. While our real estate attorneys at Charles Block can assist you with your short sale, it is good to know what you should expect throughout the procedure. Of course, the main objective is to avoid foreclosure and put an end to paying for an expensive mortgage.
Negotiations Entail
A short sale will allow you to put your property on the market. When the transaction is complete, the lender will have agreed to release the loan on your home.  Keep in mind that short sales don't always cancel the debt of a mortgage. Sometimes they request the deficiency to be paid or for the loan to continue in repayments. This where our attorneys come in to help – to conduct negotiations and represent you and your needs.
Selling the Short Sale
Even with a short sale transaction, you will still need plenty of time to sell your property. A short sale can take months to close. Once your property is sold, you will have to move immediately, so be prepared. In addition, approval from all parties involved in your property is needed in order to close. We also suggest educating yourself on short sale frauds so that you can be aware of it and protect yourself from being a victim.
For more information on short sales real estate cases, please feel free to explore our website!
November 25th, 2014
The 2014 holiday season is here.  Over the next month, people will be out shopping more than usual, decorating their homes as well as attending various holiday parties.  While the holidays are usually a time of happiness, there are many people that take advantage of the situation and the law during this time of year.  Therefore, what follows is a list of some of the top crimes committed during the holiday season.
Getting Your Identity Stolen
Even though this can happen at any time of the year, the risk for this happening around the holidays is heightened with more and more people using their credit cards in store and online.  In fact, back in 2013, millions of people who shopped at Target had their credit and debit card numbers stolen.  Not only was this a massive headache for Target, but the millions of people who shopped there were on high alert because of the fact that their identities might have been stolen, or they would have received miscellaneous charges to their card.  In the end, those who had shopped at Target during the security breach had their cards replaced and most monitored their accounts daily to ensure that they were not receiving any bogus charges.  Therefore, what are ways to prevent your identity being stolen?  Monitor your statements, and also pay attention to the news.  Even though banks are monitoring their clients' accounts, they don't catch everything so the key is to pay attention.
Stealing & Shoplifting
Not everyone has enough money to purchase the types of gifts they want.  So, what is one avenue they pursue?  Shoplifting.  Unfortunately, stealing merchandise is a lot easier to do during the holidays because of all the crowds as well as employees being more distracted than usual.  Although most employees are "trained" to single out a shoplifter, most cannot keep up and the company is forced to accept the loss.
DUI's & DWI's
While the holiday season is a time of celebrating, most people take it too far.  Unfortunately, drunk driving during this time of year is high.  Also, since the mid-2000s, the amount of accidents related to drug or alcohol has increased ever year.
It is a sad fact that there is such a high amount of crime committed during the holidays.  Those who need an attorney that is able to handle criminal law, DUI/DWI cases and more, feel free to contact Charles Block for a consultation regarding your case.
October 10th, 2014
If you've been arrested for a DUI, you may not remember the events that lead to your arrest. But chances are you are very clear about the events that followed.  The worst time to learn about the significance of a DUI is when it's happening.  While experience is a great teacher, it may be helpful to know more about the legal process ahead of time.
Here's what to expect in the state of New Jersey. 
Arraignment
The arraignment is the primal step of the criminal procedure. It takes place in a courtroom.  The purpose of the arraignment is to inform you of the charges you face. This is the time to enter a plea with the judge  – usually "guilty" or "not guilty." There are other pleas, and it gets complicated, which is why at this point you are assigned a lawyer if you can't afford one.
The Pre-trial Conference: continuance, plea bargain, suppression hearing, trial
Before the pre-trial conference, your lawyer should have received all evidence against you from the prosecutor's office.  Sometimes there's a delay in receiving the documentation.  When there's a delay, your lawyer will ask for a "continuance."  A continuance is granted if more time is needed to gather evidence.
If all the evidence has been received and reviewed by the date of the pre-trial conference, your lawyer and the prosecutor will discuss the merits of the case. Each nitpicks flaws in each other's facts regarding the case and they will argue about what should happen. Sometimes there'll be a reduction in the charges. Sometimes there'll be a dismissal. Sometimes there'll be a compromise.  When compromise isn't possible, the case moves forward.
A suppression hearing occurs if your lawyer believes your constitutional rights were violated. This is the stage where your lawyer can move to quash evidence against you.  Many cases will be resolved at this point.
If your lawyer and the prosecutor have not agreed to a plea bargain, and your case wasn't dismissed at a suppression hearing, a trial date will be set.  At the trail – which takes place in Municipal Court – a judge will examine evidence and hear testimony. The judge will decided your innocence or guilt as there are no trial juries in the state of New Jersey.
Sentencing
If found guilty at the trial, you will receive a punishment, also known as a sentence.  Receiving a sentence doesn't always mean jail time. In some cases, you might receive a fine or community service. The possible sentences are fixed within the law of the offense.
Are you facing a DUI?
If you need a DUI lawyer in New Jersey, contact Charles Block.
September 11th, 2014
After everyone has had a few days to process the recent Ray Rice controversy, many New Jersey residents (along with sport fans around the world) are asking the same question: Should New Jersey lawmakers change who is eligible for the pre-trial intervention program in order to avoid probation or jail time?
Rice, a former NFL star (now that he has been suspended indefinitely and released by the Baltimore Ravens), was charged with aggravated assault in February for attacking his then-fiancé (now wife) at Revel, an Atlantic City Casino. If convicted, he faced a possible sentence of 3 to 5 years in prison.
A request by Rice's attorney for pre-trial intervention was granted by the Atlantic County Prosecutor's Office. A pre-trial intervention program allows first-time offenders of 3rd or 4th degree crimes to avoid prosecution. If Rice meets the conditions of the program, his record will be cleared of the charge.
This past Monday, TMZ posted video of the violent attack in which Rice punched his wife and dragged her unconscious body out of an elevator. Since the video was made to be seen publicly, state Senate President Stephen Sweeney called to review the process in which the Atlantic County Prosecutor's Office decided on whether or not the New Jersey PTI program needs to be changed.
Upon seeing the violent video, State Assemblyman Joseph Cryan plans to introduce a bill next Monday that would prohibit any individual who is charged with aggravated assault in a domestic violence case from entering the pre-trial intervention program.
Do you think it is time to change the law? If you have any questions concerning the current program for pretrial intervention in New Jersey, please contact Attorney Charles Block today.
August 13th, 2014
In the state of New Jersey, there are two scenarios that can leave you without the expungement you were hoping for, to wipe away a crime from your record:
Ineligibility
Objection to Your Petition
Why Would You Be Ineligible for an Expungement?
Prior Convictions- Numerous requirements must be met in order for an expungement petition to be eligible. An individual must not have other prior convictions. New Jersey courts take into account all previous crimes when considering eligibility of expungement petition
Pending Cases- Pending criminal charges are also considered by New Jersey courts. In most cases, if there are pending charges, the courts will find you ineligible
The Waiting Game- You must complete a waiting period which begins at either:
The enforcement date of sentence
Date all fines are paid
Date jail, parole or probation is completed (whichever date comes last)
Waiting times vary depending on severity of conviction
General waiting periods:
Felony Crime – 10 years
Misdemeanor – 5 years
Juvenile Adjudication – 5 years
Municipal Ordinance – 2 years
Young Drug Offender – one year
Diversion Program – six months
Dismissal – No waiting period
If you find that you are ineligible due to any of the waiting time requirements, you can have an expungement lawyer of NJ prepare your paperwork and help you apply later once you become eligible. This ensures that your record is cleared as soon as possible.
Do You Meet All of the Requirements, But are Still Denied?
After meeting all of the requirements, your petition for expungement could still be denied by a prosecutor if:
Expungement is not in the public's best interest
The crime is considered too dangerous to be expunged
You do not prove to be rehabilitated after crime
If you are in need of assistance in getting a criminal charge wide clean from your record, contact my office today.
July 8th, 2014
As a traffic law attorney of New Jersey, one thing I've come to understand to be true is that car accidents can happen to anyone at any given time. If you've been driving for a while, chances are, you've either been involved in an automobile accident or have witnessed one occur first-hand. In many cases, drivers do not even realize they have been involved in an accident and drive off without realizing they have caused an accident. However, if you leave the scene of an accident, you could face serious charges in the state of New Jersey.
There are absolutely penalties for leaving the scene of an accident. If you leave the scene of an accident you could face either traffic ticket charges or in worst case scenarios, criminal charges. Penalties can depend on:
Whether or not there was damage to the vehicle
Whether or not someone was injured as a result of the accident
Whether or not someone was killed as a result of the accident
First Offense Penalties Include:
Fine from $200 to $400
Spend up to 30 days in jail
Six-month license suspension
2 motor vehicle points added to license
Second Offense Penalties Include:
Fine from $400 to $600
From 30 to 90 days spent in jail
1 year licenses suspension
2 motor vehicle points added to license
Injury or Death:
From $2,500 to $5,000 fine
180 days spent in county jail
1 year license suspension for a first offense
Permanent license forfeiture for a 2nd offense
8 motor vehicle points added to license
As an experienced traffic defense lawyer, I, Charles Block can craft an effective defense to ensure you avoid severe penalties if you leave the scene of the accident. But, to avoid this scenario altogether, always pull over to the side of the road if involved in an accident and wait for assistance.
June 5th, 2014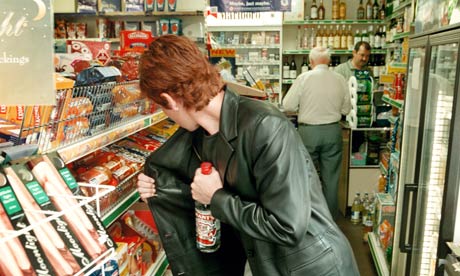 As a criminal attorney of Haddonfield, I get asked this question a lot. Some of the most expensive things people target are cars, digital devices like cell phones and cash. But, no personal possession is safe! In fact, according to the National Retail Federation (NRF), one of the most commonly stolen items is Nutella. This is because it is relatively expensive and high in demand, two of the largest factors in why items are stolen.
But there are many weirder things that people shoplift. According to NRF, here are the 10 weirdest things shoplifted:
Laundry Detergent
Tide, which is an easily recognizable brand of laundry detergent is traded for drugs and other illicit items. This item is difficult to track because of the lack of serial numbers on the packaging.
Allergy Medicine
According to a 2013 crime survey conducted by the NRF, allergy medicine has become a popular item to steal. Allergy medication is typically stolen for recreational use, or re-sold on the streets.
Pregnancy Tests
Young shoplifters choose to steal pregnancy tests to avoid embarrassment of purchasing them in public. But more importantly, they are targeted by groups of thieves for their resale value. They can be sold on the black market for near-retail prices.
Catalytic Converts
These are stolen for their value at scrap yards. The price of such metals as platinum, rhodium and palladium found in a catalytic converter has risen in recent years, which can explain why they are one of the most shoplifted items.
Manhole Covers
At first, you may not consider this item to be a hot commodity, but with the increase in metal prices, manhole covers are stolen frequently. Thieves will go as far as dressing as construction workers when stealing the covers.
Nutella
Certainly the tastiest item on the list, Nutella is reported as being stolen in areas throughout the world.
Sap
It is a labor-intensive process to produce maple syrup. 40 gallons of sap is required to produce a single gallon of syrup, which is why thieves go to great lengths to steal million dollars' worth of sap.
Shrubbery
Make sure you keep an eye on those porch plants you have in front of your house. In the past year, there have been a number of shrubbery theft cases, with thieves leaving damage to lawns. Plant value can reach extreme highs when traded on the black market.
Small Boats
IT is common for thieves to break into the backyards of homes located on the Ocean in order to steal their boats. Along with small boats, jet skis are also a commonly stolen item.
Steak
Due to the increase in demand for beef overseas, the value for steak has risen greatly. In 2013, it was reported that more than 10,000 cows and horses were stolen. It is clear that steak is no exception for shoplifters.
To learn more about shoplifting, contact the Law Office of Charles Block today.
May 5th, 2014
As a criminal law attorney, many of the questions I receive are about restraining orders. In fact, one of the most important questions I get asked is, "When can I file for a restraining order?" In order for resident of New Jersey for a restraining order, he or she must have been a victim who was subjected to domestic violence.
What does the term, "victim," mean?
A victim is anyone who is over the age of 18 who has been subjected to an act of violence caused by a spouse, present household member, or former household member. The term victim also includes anyone, or any age, who has been abused physically by a spouse who he/she is having a child with, or a person who he/she is in a dating relationship with.
Individuals are able to obtain a restraining order against a juvenile if they have a child with the juvenile, and have been subjected to domestic abuse. The steps involved with filing for a restraining order include:
·

        

Fill out a domestic violence complaint, which is a civil complaint
·

        

Appear before judge who upon reviewing the complaint, will ask questions
·

        

A temporary restraining order will be filed if the judge is satisfied with your answers
·

        

A final restraining order hearing will also be set by the judge
There is a difference between a temporary restraining order and a final restraining order is that the temporary restraining order is issued to the individual based on their input given during the initial hearing. This protects the victim from the defendant until the final restraining order is given.
For more information on criminal law, please contact Charles Block, Attorney at Law, by calling 856-741-1495.
April 3rd, 2014
In the state of New Jersey, there are three ways to commit simple assault.
·         Attempting to/actually causing bodily harm to a person.
·         Injury caused by a deadly weapon
·         Put fear of bodily harm into a person's mind
When does a bodily injury occur? A person causes bodily injury when the person they are harming is physically injured or in pain. Traditional weapons such as firearms, along with objects or substances that non-traditional can also constitute a deadly weapon. In many simple assault cases, as object such as a brick, or something related, is used to pose harm to someone.
What are the penalties that result from a simple assault charge? Since a simple assault is normally categorized as a disorderly persons offense (unless it is categorized as a petty disorderly offense due to a consensual fight where an injury occurred) an individual can be ordered to pay a fine or make restitution. In the state of New Jersey, a fine cannot exceed $1,000, however, a judge has the authority to order a higher fine. The higher fine cannot exceed the amount of loss suffered by the victim.
It is advisable to consult a simple assault lawyer because being charged is a serious matter which can become worse if there is no legal action. For more information, please contact my New Jersey office. You can reach the office of Charles Block, attorney at Law, by calling 856-741-1495. Please feel free to set up a legal consultation. Contacting my office can be the difference between spending time in jail, and walking free.
March 7th, 2014
One of the main questions a NJ simple assault attorney gets asked is "What is the punishment involved with a simple assault?" If you have been charged with simple assault, than you must understand the penalties involved and you may want to consider hiring an attorney who understands how to protect your legal rights and even make sure you receive the lightest sentence possible.
Two Types of Assault
New Jersey law states that there are two types of basic assault charges you can face, however, in order for you to be committed of those assault charges, there needs to be probable cause. It is the job of the prosecution to provide probable cause that an assault took place. The prosecution must prove that you:
You knowingly, purposely or recklessly attempted/caused physical bodily harm to another individual.
You unintentionally/negligently caused injury to another individual with a deadly weapon
You knowingly attempted to put another individual in fear of a bodily injury
The following punishments may be given to you if you have been convicted of simple assault:
            You may be forced to spend up to 6 months in jail
            You may be given community service
            You may be responsible for a fine of up to $1,000
            You may have a criminal record
Contact our Voorhees, NJ office today. Attorney Charles Block can help protect your legal rights and work to have your penalties reduced. Call 856-741-1495 today.